About us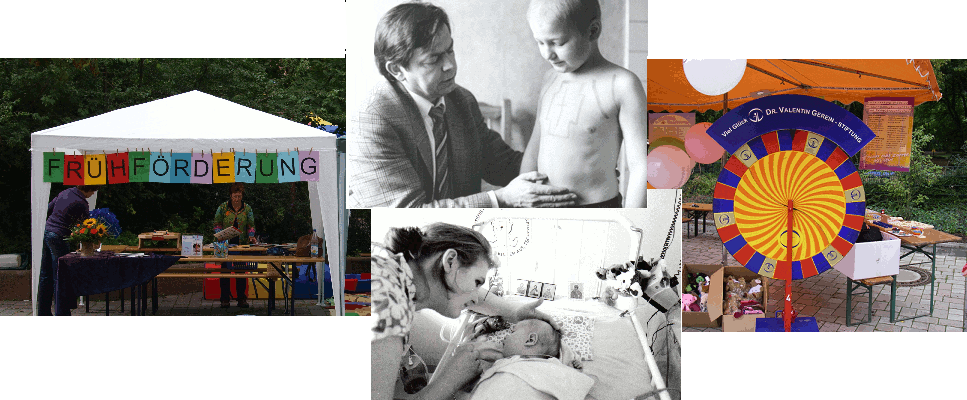 The Dr. Valentin Gerein Foundation was founded in 2003 by parents from all over Germany. The Dr. Valentin Gerein Foundation was founded in 2003 by the former rector of the Schiller-Gymnasium, Frankfurt / Main, Ms. Else Albrecht †, and parents from all over Germany and abroad. Their children suffered from leukemia, tumors and the like. a. life-threatening diseases. With individual therapies, Professor Dr. Valentin Gerein save the lives of these children.
It was particularly important to them that the foundation named after Professor Dr. Valentin Gerein. Health care for children, adolescents and young adults, especially for cancer prevention.
Medical help in the Chernobyl region, where, more than 20 years after the nuclear disaster, children are still suffering from secondary diseases due to genetic damage.
Childhood cancer research in the field of laryngeal papillomatosis (precursor to larynx and lung cancer).
Establishment and maintenance of a sponsor network in Hattersheim and the surrounding area: sponsors with experience of life accompany children with behavioral problems, be it with follow-up and homework help, with leisure activities or as a reference person for small and large needs. A specially set up working group with psychologists, speech therapists, occupational therapists, pedagogues, social workers, early intervention centers and doctors meets every 6 weeks and advises on therapeutic approaches tailored to each child and their family. All functions are filled on a voluntary basis.
And Professor Valentin Gerein is a pediatric hemato-oncologist, a pediatric cancer researcher in the field of human papilloma viruses and head of the research group on cervical and larynx cancer at the Institute for Pediatric Pathology at the University of Mainz. He is also a professor at the University Clinic in Frankfurt am Main and has been a resident specialist in pediatric medicine since October 2004.
On our website you can also find out what the former patients of Prof. Dr. Valentin Gerein have to say. Every story of battling disease counts. This can prove to everyone that any difficult and dangerous fight with friends leads to a best victory of life faster.
Hope remains until the last moment, even where medicine is powerless. Our namesake is a person who has the faith, hope and experience and who always leads his team to success. He is a dreamer who brings his dreams to life. We help save children's lives.
The Dr. The Valentin Gerein Foundation was founded by the parents of the "hopeless" patients who, against the thoughts of the doctors, survived the difficult times and can now continue to help us others.
All functions are filled on a voluntary basis.