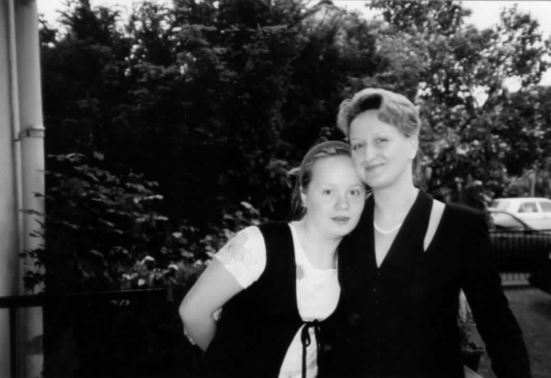 These are Viktor and Valentina, our first leukemia patients from Minsk, with Valentina's mother Natascha. In the spring of 1990 letters from these terminally ill children came to Frankfurt with a cry for help. They had leukemia with two relapses and were sent home from the clinics in their homeland to die.
Viktor and Valentina still had a chance: In Minsk in 1990 the children's hemato-oncology center had just been set up by the "Association for Children from Chernobyl" and other aid organizations. The two underwent the extremely aggressive chemotherapeutic treatment that pushed them to the limits of psychological and physical resilience.
You have been healed permanently. Today they lead a normal life. Viktor is top of his class and regularly spends a vacation with his German host parents. Valentina would like to study medicine to help children with cancer.
These two stories tell what it means for families when one's own small child has HPV.
MOTHER (Lydia Nickel)
Yes, and this is how it all started: Daughter has a cold, I thought, she's getting hoarse, has almost no voice.
Go to the H NO doctor in Offenbach, daughter has a polyp on the vocal cord should be removed at the university. One time thing? Yes, because of !!
If it is removed every 3 or 4 months, then the distances become shorter and shorter, it is now lasered, the mouth smells really burned. Stress in the ENT: Daughter should be lasered, screams like a stick, clings tight, doesn't want to be scared. But we know the game.
Senior doctor is pissed off us, whether we would have had a good breakfast. Whether we wanted to kill our child. We hadn't eaten anything because of the little ones, but my sweetheart had found a piece of candy or Ma-o-am in her jacket pocket and eaten it secretly in the car. OP not until late afternoon….
As the only option, Prof. von Ilberg sends us to the Children's Cancer Clinic, where we can meet our Dr. Get to know pure.
Just like the others: T., Ü. and Th. The children should now stay in the clinic for a week. Because you want to adjust them with interferon.
Fever attacks and chills follow until the right attitude is found. Now every day or every second to the university for infusions. Daughter was allowed to go home with the infusion needle and was even able to go to kindergarten because she had a very good kindergarten teacher. She once tore out a needle while playing at home with her sister and the whole family looked for this thing and found it. Later I learned to inject. Daughter gets a HEART drawn on her bottom so that I know where the syringe has to go. Now it is practiced with oranges … Yes, they don't scream and fidget!
And then it's Easter. Daughter had had her injection and had a fever of almost 40 at night. Despite the suppository, it didn't go down, drive to the university, after 2 hours we can go home again, the fever has receded.
And then, for the first time ever, we went on vacation with our children.
The spraying didn't always go so smoothly, Dad held daughter tight and I had to spray.
Was more afraid of hurting my child, but it had to be. I was sweaty every time, my hands were shaking a lot, which got a little better over time.
Daughter goes to school and goes to preschool. During this time, she takes a cure for 6 weeks, interferon comes in dry ice and goes with, as the treatment has to be continued. Daughter can take her medication out of the refrigerator and thaw it herself, great.
Now it is checked again and again under anesthesia whether everything is okay.
Everything was always great. At some point we were retired. My daughter is doing pretty well today. Apart from a hoarse voice, nothing remains. Thank God!!!
As a toddler at around 2.5 years of age, I developed laryngeal papillomas (warts in the throat, larynx and vocal cords). I had enormous problems speaking, my voice was very hoarse.
An ENT doctor in Offenbach thought it was a polyp on the vocal cords and referred us to the University of Frankfurt. However, it took almost a year before we got to Dr. Are taken clean. Dr. Gerein was finally able to tell us what exactly I have and treat myself specifically.
He said we only have one chance, interferon treatment. Back then as a test person for study purposes, as it was not yet on the market. I am very happy that my mother blindly trusted him. Who knows what would be today if it hadn't been like that …
The papillomas were peeled off several times under general anesthesia, later treated with laser and from February 1983 to October 1986 with interferon.
The side effects of interferon were nocturnal attacks of fever, sometimes very high fever. I woke up one night because I had a terrible tra